Viena Card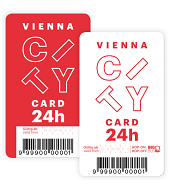 72 horas de recorrido libre y 210 descuentos por sólo € 29,00!
Haga clic
aquí
para obtener la descripción detallada!
También incluye transporte ilimitado durante 72 horas en el metro, autobús y tranvía.

La Vienna Card da derecho a un niño (de hasta 15 años de edad y presentando DNI) a viajar con usted de forma gratuita en Viena con el transporte público (metro, tranvía y autobús).
Válida hasta la fecha de su expedición. La Viena Card es válida durante 72 horas después de la validación. Sin embargo, los descuentos ofrecidos por la Vienna Card todavía se puede disfrutar durante todo el último día de validez de la tarjeta.
Las instrucciones de cómo utilizar la Viena Card se pueden encontrar en el libro de 120 páginas de cupones que se da gratuitamente a todas las personas que compran la Vienna Card.
- Desde el aeropuerto hasta el centro de la ciudad por 11 € (normalmente 12 €) con el City Airport Train y por 7 € (normalmente 8 €) con las Vienna Airport Lines.

Puntos de recogida:
Informaciones turistas Viena
1010 Viena, Albertinaplatz (esquina Maysedergasse)
Cada día – 9h/19h

Informaciones turistas estación central de Viena
1100 Viena, Am Hauptbahnhof 1, ÖBB InfoPoint (Oficina de informaciones de la Austrian Railway).
Cada día – 9h/19h

Informaciones turistas aeropuerto de Viena
Verkehrsbüro - Ruefa Reisen GmbH
Llegadas
Cada día – 9h/22h
Obtenga un descuento en estos museos y lugares de interés con la Vienna Card:

Academy of Fine Arts / Gallery of Paintings (-12%)
Albertina (-18%)
Architecture Center (-20%)
Bank Austria Kunstforum (-17%)
Belvedere (-12% to -16%)
Belvedere Alpine Gardens (-22%)
Brochure "Vienna A - Z" (-19%)
Butterfly House (-16%)
Donauturm (-20%)
Esperanto Museum (-10%)
Essl Museum (-33%)
Esterházy Palace (-15%)

Kunsthistorisches Museum (Museum of Art History) (-€1)
Café-Restaurant at the Kunsthistorisches Museum (-10%)

Austrian Folklore Museum (-20%)
Sigmund-Freud-Museum (-19%)
Ernst Fuchs House (-27%)
Generali Foundation (-25%)
Giant Ferris Wheel (-11 %)
Globe Museum (-10%)
The History of Torture (-25%)
House of Music (-33%)
House of the Sea (special offer)

Hofburg:
Imperial Apartments, Sisi Museum & Imperial Silver Collection (-7/9%)
Austrian National Library / Grand Hall (-10%)
Café Hofburg (special offer)
Neue Burg (-€1)
Secular and Ecclesiastical Treasuries (-€1)
Spanish Riding School (-14%)

Hundertwasser Village (special offer)
Imperial Burial Vault (-18%)
Imperial Furniture Collection (-12/9%)
Jewish Museum - Jewish Museum at Judenplatz (-20%)
Klosterneuburg Abbey (-9%)
Kuffner Observatory (-14%)
Kunsthalle Wien (-25%)
Künstlerhaus (-22%)
KunstHausWien (-20/-25%)
Leopold Museum (-10%)
Liechtenstein Museum (special offer)
Madame Tussauds (-20%)
MAK - Museum of Applied Arts (-20%)
Mozart House Vienna (-15/20%)
Haydnhaus (-€1)
MQ Point - Info, Tickets, Shop (special offer)
MUMOK - Museum of Modern Art (-20%)
museum gugging (-28%)
Museum of Natural History (-20%)
Museum at the Abbey of the Scots (-50%)
Museum of Military History (-35%)
ORF Backstage (-12%)
Papyrus Museum (-10%)
Pathological-Anatomical Museum (special offer)
Planetarium Wien (-12/17%)
Porcelain Museum in the Augarten (-33/-17%)
Prince Eugene of Savoy's Winter Palace (special offer)
Roman Museum (-€2)
Arnold Schönberg Center (-10%)

Schönbrunn:
Imperial Coach Collection (-€1)
Experience Schönbrunn Palace (special offer)
Marionette Theater (-5/10%)
Maze & Labyrinth, Gloriette (special offer)
Schönbrunn Palace (special offer)
Palmery (-17%)
Café Restaurant Residenz (special discount)
Schönbrunn Zoo (-13%)
Desert Experience House (-25%)

Streetcar Museum (-€1)
St. Charles Church (-37%)
Technical Museum (-20%)
Theater Museum (-€1)
Time Travel (-€4)
The Third Man Museum (-20%)
Treasury of the Teutonic Order (-25%)
21er Haus (-21%)
UNO City Guided Tours (-33%)
Urania Observatory (-14%)
Wiener Prater - Free book of vouchers (special offer)

Wien Museum Karlsplatz (-€2)
World Museum Vienna (-€1)
Zoom Children's Museum (-20%)

Muchas ofertas sólo están disponibles con un cupón. Por favor, asegúrese de que lleva con usted en todo momento su libro de cupones de tarjetas de Viena.

Las entradas le serán enviadas en un e-mail
Powered by Ticketbar